Loree Loves will be a monthly list of things/ books/ blogs/ Instagram accounts or anything else which gets my radar buzzing. My intention was to start sharing these lists last January - but we all know how quickly new years' resolutions end up on the trash heap of history. Then I thought I should wait till next January to give this a go but ended up deciding that there's nothing like the present. So here's the first installment (and fingers crossed that there will be many more).
Burgundy
…the colour not the wine (I prefer white wine). It seems to be a popular colour for the coming season and all the stores here have racks of clothes in this colour. It also happens to be one of my personal favourites, especially if it has a strong undertone of red. Here are some burgundy items that I found online that I absolutely love:
From top left to bottom: 1. Dress with embroidered flowers via SheIn; 2. Chloe lace-up ankle boots via Net-A-Porter; 3. Velvet dress via SheIn; 4. Felted mittens by Aurelia Felt Studio on Etsy; 5. MAC Lipstick Power Driven; 6. Silk scarf by The Chic Artisan on Etsy
Poldark
If you're not watching this BBC period drama you're missing out on some good entertainment. Now into Season 2, we were all rooting for Ross Poldark until his actions in episode 8 made us all realise that he's no saint. Which is just as well, I suppose, as saintly men do not make for very interesting leading characters. And even if we can't quite forgive Ross just yet, the gorgeous scenery of Cornwall and the brilliant acting more than make up for our hero's indiscretions. If you aren't watching this series, I strongly suggest that you start now. Season 1 trailer here and season 2 here.
Travel Tall
I first ran across Eric Giuliani on Instagram and became fascinated by his story: feeling stifled by corporate life he studied photography, writing and film-making for a year, saving as much money as he could in the process to realise his dream - to travel the world without using air travel. It was a huge dream but he did it, is still doing it and, in the process, has enriched his life with experiences that most of us can only imagine. You may find Eric on Instagram here, on Facebook here or on his website here. Truly this is one man who has become an inspiration for many and while we may not all be in a position to sell our belongings and just take off into the unknown, we can all pursue our dreams and our passions in our own way. It only takes that first small step.
The Little Card Boutique
This husband and wife team from Melbourne lovingly create beautiful hand-made cards and other gifts such as bookmarks, Christmas ornaments and notebooks. Personalised gifts are available on request. The Little Card Boutique is a perfect place to shop for a card for that special person in your life, especially with Christmas just round the corner. You may find The Little Card Boutique on Instagram here, on Etsy here and on Facebook here.
The beach in autumn
It is no secret to any of you that I have a special love affair with the sea and autumn just have to be one of the best seasons to capture its ever-changing moods. So whether it looks like this
or like this
it will always intrigue and fascinate me and I will always answer its secret call.
Hiking
A recent thunderstorm or two and a veritable gale finally broke the heat and it's the perfect time to get our hiking boots out of the cupboard and hit the trails. We take the road less travelled, only occasionally coming across like-minded individuals, and explore areas of this little island that most people who live here all their lives never get to see - amazing but true. And I have to admit that even though I thought I had seen it all, there are times when I am stunned by the diversity of the landscape and the plethora of wild flowers that seem to spring from every nook and crevice. Strange as it may sound, our hikes have taken us to places we had never been to before.
Thanskgiving
I have to admit that it took me some time to get used to this holiday (which is not a holiday here). My husband and I would get into some, erm, heated discussions about the menu. For the first few years he insisted on sweet potatoes, turkey and pumpkin pie. I hated all of t hem. As the years passed, we've come to a compromise. The sweet potatoes have stayed (and I must admit that they are not that bad) but turkey has been struck off the menu. As has the pumpkin pie - although we do try to incorporate pumpkin in some form or other since it is synonymous with Thanksgiving. It has become an almost unspoken tradition not to cook the same thing twice. Which means that just about now we both start looking for new recipes and discussing meal plans. I generally search for a dessert recipe first. Last year's Glazed Cranberry Lemon Cake was a big hit.
This year I am torn between Pumpkin Spice Cupcakes with Cinnamon Cream Cheese Frosting and Pecan Pie Muffins (or are muffins breakfast fare?) that I can serve with this Whipped Cinnamon Pumpkin Butter.
Pentatonix's version of Hallelujah
If you have not yet acquainted yourselves with this a capella quintet, I urge you to do so immediately. Their rendition of Leonard Cohen's classic hit Hallelujah is perhaps the most beautiful I have ever heard (and, believe me, I have heard quite a few).
Pentatonix have recently released their Christmas album A Pentatonix Christmas and although Hallelujah is not what I would describe as a typical Christmas song, I am definitely not complaining. A Pentatonix Christmas may be purchased here or on Amazon here.
Valentina Poudre
This is currently my favourite go-to perfume. This powdery fragrance has subtle hints of vanilla, iris, tuberose and sandalwood. Valentina Poudre is the creation of perfumer Aurelien Guichard. It has been described as an Oriental floral fragrance. While during the summer months it may smell a bit overwhelming due to its strong earthy undertones, I find it perfect for this time of year.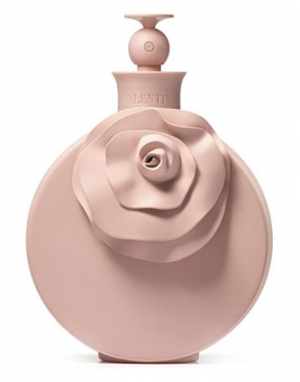 Valentina Poudre by Valentino is available for purchase here.
Please tell me whether you have enjoyed the first edition of Loree Loves. I hope I will be able to keep this up and that it will be a monthly feature on my blog.