The sunrise was beautiful this morning. The sky was all but cloudless and the crimson sun rose majestically - a glowing orb in the sky. The sky in the east was a lovely shade of ochre and purple, which gradually faded to shades of gold and powder blue. A fleeting mist hung lightly around the churches and homes. It was a pretty picture and I wish I had a camera to capture it but I was on my way to work.
I have been going through the archives of this blog and realized that last year at this time I seemed to be posting more regularly. I am not sure why I am finding it harder to do so this year. Perhaps it has something to do with the fact that we have been painting our house. We started last June and we are still at it. No, our house is by no means enormous, but we took several weeks' break between one room and another (blaming it on the heat) and we also had to decide on some colour options. You'd think it would be easy to choose a colour. But I am one of those people who has to have a particular shade of a colour – and it has to be just perfect. Then, of course, there is my husband, who has his own opinion about what colour a room should be, which makes the whole process difficult and unnecessarily tedious because we are just total opposites in this respect. Anyway, we are almost done, with only two small areas left.
I would post some before and after photos but I am not altogether comfortable with sharing photos of my home with the whole wide world. But I will share a few images of some items we have picked up for one of the bedrooms.This one room had the most work done to it as I decided it needed some extensive redecorating.
My husband and I managed to agree on the colour for a feature wall. We decided to use
Moonlight Bay
by Crown Paints and it worked really well with the furniture we already had.I bought these two water colour paintings from
Original Art Only
on
Etsy
.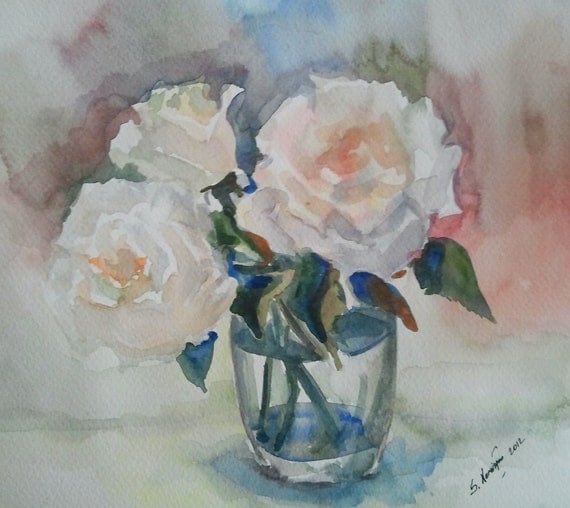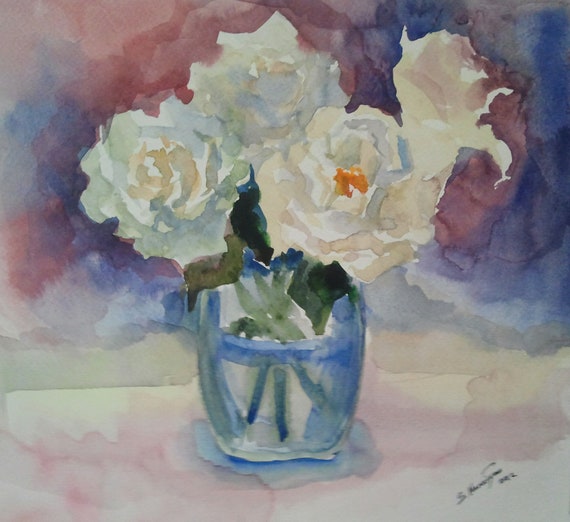 I think that they will complement another painting we bought a few years from a shop called The Saturday Store in Canton (MO). Sadly, the store closed down last year. The painting is by Missouri artist
Kimberly Shinn
. I apologise for the very poor quality of the photo. I am not sure what was going on but I could not get the real colours in the painting to be reproduced in the photo.
My husband and I may not see completely eye to eye about colours but we do agree about one thing – and that is not to follow any specific decorating 'rules'. Each room in our house is a free spirit. We don't really follow themes but like to surround ourselves with the things we love and which, for one reason or another, have a sentimental value. So we enjoy bringing different elements into the mix, like this textured print that we picked up in Paris. We loved the vibrant colours and the rather wacky angle that the artist chose to represent some of the most famous land-marks in the city.
We also included some fun items like this mask I had bought from one of the stores at
The Venetian
in Las Vegas on my first trip 'out West' in 2002.
I picked up this ironstone plate on EBay and it fits in well with the rest of the room.
All in all it has been fun seeing this particular bedroom come together. It has taken quite a bit of time and effort to see my vision become reality (and I am still working on the fine details). I admit that I did search the web and some decorating books (especially
Decorate: 1000 Design Ideas for Every Room in Your Home by Holly Becker & Joanna Copestick
) for inspiration but I let my own instinct guide me, as opposed to letting others dictate what I should do. And it worked.
With that I come to the end of a rather long and unexpected post that started out with a sunrise and somehow ended up in our re-decorated bedroom.