When I was a little girl, I remember someone telling me that dogs don't quite see as many colours as we do, that the colours they see are rather muted - and I felt so sad. I couldn't imagine going through life without experiencing the vibrant hues that we so take for granted. I know that there are people who love to surround themselves with neutrals - and neutrals are always safe. Safe, and as some other people would say, predictable and boring.
Image via Ball and Skein
But I really love to surround myself with colour - especially when it comes to my clothes. Red, ruby red to be exact, has always been one of my favourites. I also love turquoise and all its variants, fuchsia, chartreuse, and I have recently started to develop a bit of a thing for tangerine.
Image via Dye for Yarn on Etsy
Truth be told, I don't shy away from too many colours but I refuse to wear mustard or what I like to call St Patrick's green. I guess it's a good thing I'm not Irish.
Image via ZsaZsa Bellagio
So it probably won't come as a surprise if I had to tell you that when I open the doors of my wardrobe, it looks like a rainbow exploded in there. I try to make some sense out of the chaos by grouping colours together: pinks and reds and all the shades of turquoise, interspersed with those ever-trendy non-colours: white and black.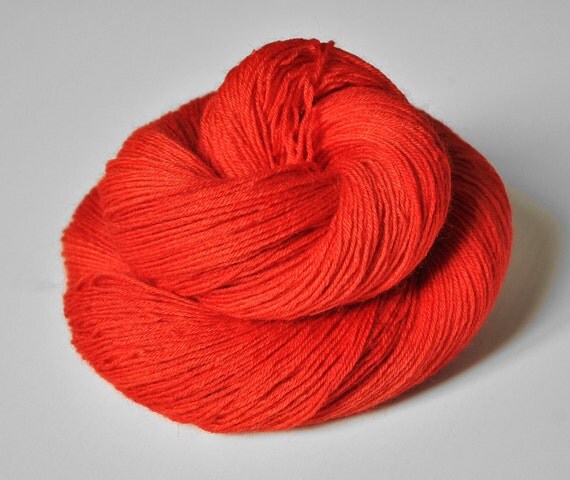 Image via Dye for Wool on Etsy
Colours are wonderful things. They are capable of cheering us up; changing our appearance. Good colours light up our faces and make us stand out. Colours are strongly tied up with human emotions and traditions. Black was the colour of mourning in Europe. In Japan it is white. Orange is the preferred colour of buddhist monks. Purple is the colour of royalty. Native Americans believe that turquoise signifies life. The Irish believe that green is lucky. Locally, I have met people who think it is unlucky. Every culture has its own colour symbolism. The list is as fascinating as it is endless and it is a subjest I will return to on Fabulous Fridays from time to time.
And what about you - what colours do you love and which ones, if any, do you absolutely hate? Are there colours you are superstitious about? Are you able to define one single, favourite colour? Do tell. I would love to know.
This five-minue quiz is supposed to give you and insight into your personality. I have to admit that mine was pretty accurate.
Interesting reading: